Home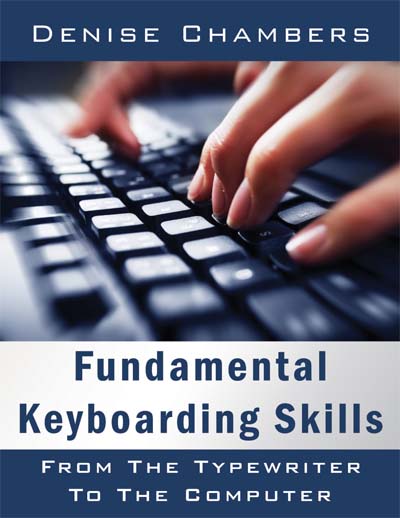 Welcome to my website!
I'm Denise Chambers, author of Fundamental Keyboarding Skills: From The Typewriter To The Computer.

About the Author
Denise Chambers is a writer and a teacher. Her teaching endeavors had its early beginnings at a vocational school called Watterson College in Pasadena, California in the mid 80's she taught secretarial science courses and leadership development. She went on to teach at Pasadena City College Community Skill Center where she taught typing/keyboarding skills. Denise included in her talents writing grants for nonprofit organizations and schools with her business called College Funding Scholarship Service. She continued teaching and writing until her health deteriorated when she was diagnosed with Multiple Sclerosis. She was determined to continue her academics and received a B.S. in Psychology in 2004 at the La Verne University, and her Masters in Education in 2008 at the University of Phoenix. Currently, she is contemplating her Doctorate in Educational Leadership. Denise turned the page and developed a book for the young and old for the fundamental skills of typing/keyboarding. A reference book of skills so much needed in the fast pace computer world we live in. Denise's health is slowly improving with therapy, exercise, and most of all prayer. This book will help the novice and the learned on the keyboard a vision Denise saw for all her students in reaching their highest potential!
About my latest book, Fundamental Keyboarding Skills: From The Typewriter To The Computer
Typing and developing keyboarding skills have a common goal from the typewriter to the computer the paper is formatted on 8-1/2" (across) by 11" (down) paper called the portrait position. Page 3 reviews common basics in measurement of how characters are perceived via the fonts on paper. Page 4 and page11 depicts the descriptive process of left and right margins from the typewriter to the computer. Centering text and top and bottom margins contiunues on pages 4, 5, and 6. Descriptive accounts of the most commonly used microsoft word keys are illustrated and detailed on pages 7, 8, and 9.